Badilag and 28 Religious High Courts & Religious Courts Achieve WBK/WBBM 2021 Predicate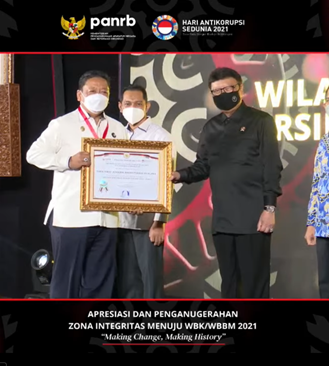 Monday (20/12), the Ministry of State Apparatus Empowerment and Bureaucratic Reform held an Appreciation and Awarding of Integrity Zones towards a Corruption-Free Region/Clean Bureaucratic Serving Area in 2021. 4,400 work units were proposed in this appreciation and award event. From the results of the evaluation carried out by the National Assessment Team of Ministry of State Apparatus Empowerment, there were 558 work units that managed to get the titles of Corruption Free Area (WBK) and Clean Serving Bureaucratic Area (WBBM). 486 work units won WBK and 72 work units won WBBM.
The Directorate General of Religious Courts (Ditjen Badilag) is one of the Work Units under the Supreme Court that received the 2021 WBBM predicate. This award fulfills the previous year's achievement, the 2020 WBK predicate. The WBBM is a predicate given to work units that meet most of the criteria in implementing six areas of change in the bureaucratic reform program and has been able to prevent KKN and can provide excellent service.
In his remarks, Vice President K.H. Ma'ruf Amin said that this apreciation is given to a strategic service work unit whose leaders and staff have a strong commitment to realizing a bureaucratic work culture that is anti-corruption and serves the public with excellence. "This predicate is not only a form of appreciation but also symbolizes the commitment of your work unit to always be an icon of the bureaucracy that serves clean and free from corruption," he said.
The appreciation of the Integrity Zone Award was handed over directly by the Minister State Apparatus Empowerment and Bureaucratic Reform, Tjahjo Kumolo, to the Director General of Badilag, Dr. Drs. Aco Nur, S.H., M.H. on Monday, December 20, 2021.