Judges of Religious Courts Must Increase Professionalism in Judging Sharia Economic Cases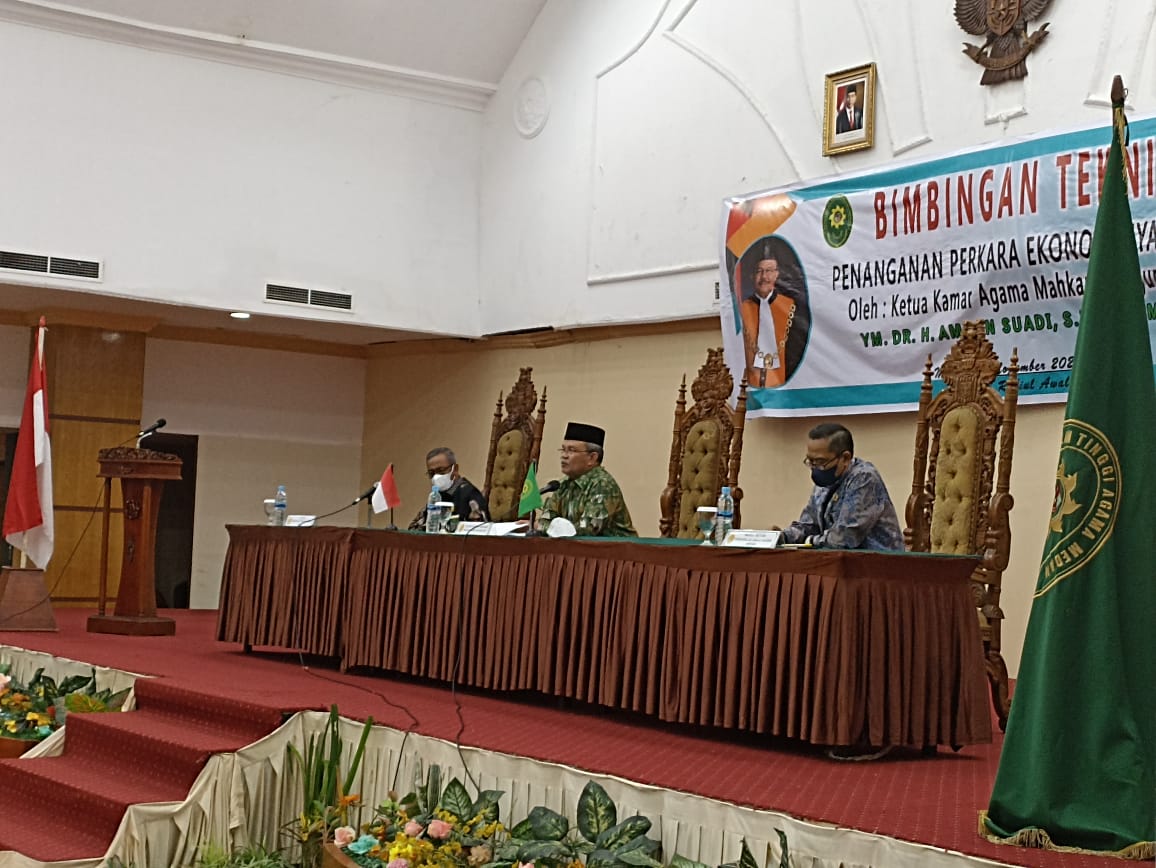 Tuesday, November 2, 2021, at the Madani Hotel, Medan City, the Medan Religious High Court (PTA Medan) conducted training for leaders, judges, and clerks of the Religious Courts in the PTA Medan area. Dr. Drs. H. Amran Suadi, S.H., M.Hum., M.M., Chairman of the Religious Chamber of the Supreme Court (Tuaka Agama), who also acted as speaker, when opening the event asked Religious Court judges to increase professionalism in adjudicating sharia economic cases.
The Religious Tuaka provided guidance throughout the PTA Medan area along with the groundbreaking activity for the Tahfiz al-Firdausi Qasimi As-Suadi House building on Wednesday, November 3, 2021. Mr. Amran said the construction of the Tahfiz House was a form of the Supreme Court's active participation in the intellectual life of the nation, because most of its donors come from Indonesian judicial families.
"The handling of simple case lawsuits in sharia economic cases refers to Supreme Court Regulation Number 2 of 2015 concerning Procedures for Settlement of Simple Lawsuits which has been amended by Supreme Court Regulation Number 4 of 2019. This Supreme Court policy supports national government programs in realizing ease of doing business",he said.
There are a number of norms in PERMA Number 2 of 2015 which have been changed by PERMA Number 4 of 2019. First, the increase in the material value of the lawsuit from 200 million rupiah to 500 million rupiah. And second, the abolition of the domicile limit, the plaintiff can sue the defendant who is outside the plaintiff's area of ​​residence by appointing a proxy who is in the defendant's residence area.
In addition, the plaintiff can file a simple lawsuit electronically. The defendant may file a verzet legal action against the decision made by the panel of judges without the presence of the defendant (verstek). The judge may place a confiscation of collateral at the request of the plaintiff. And finally, the determination of the period of punishment (reprimand) in the request for execution is 7 days, Amran Suadi said in his explanation.